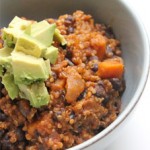 This vegan chili is loaded with flavor and vitamins, and everyone in the family will ask for a second bowl. It's easy to prepare, takes just over  a half hour to get on the table, and the best part! There's only one pot to clean!!
makes 6 hearty bowls of chili
one 29 oz can black beans, rinsed and drained
one 6 oz can tomato paste
32 oz vegetable stock
1 onion, chopped
5 cloves garlic, minced
1 tablespoon chili powder
1 tablespoon cumin
1 teaspoon oregano
1 tablespoon olive oil
1 sweet potato, peeled and cut into bite sized chunks
1 cup dry quinoa
salt and pepper to taste
avocado, cilantro for garnish  (optional)
Heat the oil in a large heavy soup pot over medium low heat. Add onions, and cook until soft and they start to turn brown (about 10 minutes). Add the garlic, and cook for about 2 minutes. Add the tomato paste, chili powder, cumin, and oregano and cook for about 2 minutes, stirring constantly. Add the beans, stock, and potatoes, and season with salt and pepper . Cook for about 5 minutes, then add the quinoa. Continue cooking for about 15 minutes – 30 minutes, stirring frequently, until quinoa and potatoes are cooked and the chili has thickened. Add a bit of water if the chili becomes too thick for your liking. Top with avocado and chopped cilantro. Scrumptious!
Source – http://www.milkfreemom.com/vegan-quinoa-sweet-potato-chili/