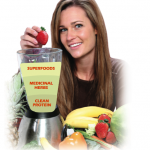 I would like to invite everyone to attend the class I will be teaching this Thursday at 7:00pm at Dr. Nick Delgado's office.
This will be a fun and interactive class where I will show you how to make the blended drink I enjoy every day. Then we will work on customizing the drink for you. By the end of the class you will have a blended drink that you look forward to, and makes you feel great.
The blended drink (when done correctly) is the first and most important step in turning back the aging clock. It will give you more energy, relieve aches and pains, helps digestion, improves mental clarity, and is great for weight loss, and best of all, it only takes a few minutes.
If you have any questions about this or any of our future classes please feel free to call me at: 714-580-3922
See you there,
Ty
Time:         7:00pm
Address:    711 West 17th suite H-6
Costa Mesa, 92627